ECTP-CEU approved during its last General Assembly the "RE-START-EUROPE" Declaration for an inclusive and just post-Covid future for all communities.
This Declaration - which was presented on 12/10/2020 during a webinar - seeks to harness the creative power and technical expertise of spatial planners in tackling the social and economic crisis created by the Covid-19 pandemic.
Here is the summary
ECTP-CEU 2020 declaration for an inclusive and just post-covid future for all communities
1.
This Re-START-Europe declaration sets out the principles to deliver Europe from the crisis created by Covid-19, by harnessing the power of spatial planning for a Just Recovery across Europe underpinned by a wider agenda for Resilience, Renewal and Growth.
2.
Covid-19 is accelerating trends and creating new trajectories that are re-shaping our towns and cities. Revitalised Spatial Planning is needed to manage the new economic geography of Europe being created by new business practices, home working and more localised and diversified supply chains. A return to"Business as Usual"trends and policies will threaten the foundations of economies and societies all across Europe.
3.
The future for Europe must not be paralysed by the radical uncertainty it faces. Covid- 19 has created the risk of sustained economic recession. Europe must act with urgency, resetting the goals and practices for a healthy and planned Europe, creating jobs and mobilising investment. We need to restart the European Spirit that has flowered over the last 70 years by facing up to the crises created by human conflict and natural disasters.
4.
Re-START-Europe will help deliver on its long-standing ambition for a more sustainable future with the commitment of the planning profession to ensuring policy is evidence-based, and not ideologically driven. In doing so, it builds on the Charter of European Planning and the European Charter on Participatory Democracy.
5.
Re-START-Europe requires all nations to seize the opportunity to reset Europe on a more sustainable trajectory shaped by our shared values, and not by unfettered markets, by:
•
Re-committing to the principles of the UNHABITAT New Urban Agenda for the well-being of its citizens, sustaining vital ecosystems, and tackling climate change;
•
Setting explicit sustainability targets in line with the principle of the 10-Year Outcomes Frameworks, embodied in the 2030 UN Sustainable Development Goals and with the New Leipzig Charter;
•
Rebalancing power and wealth to avoid unrest and the erosion of respect for governments, be it local, regional or national, in order to create a just and equitable Europe;
•
Creating more resilient urban systems and more vigilant in risk assessments by strengthened spatial planning, so European communities are better prepared for future economic shocks.
6.
Re-START-Europe is built around Territorial Impact Assessments (TIA) and embeds spatial planning practices at all levels of territorial and sectoral governance in order to:
•
Create resilience in Europe's economic base by re-building Europe's manufacturing economy;
•
Contain urban densities to sustainable levels;
•
Shorten and diversify supply chains and capitalise on its R&D strengths;
•
Develop the foundational economy and the greater empowerment of communities;
•
Decarbonise energy and industrial systems;
•
Enhance connectivity within regions and beyond to marginalised communities; and
•
Value ecosystems, especially public space, and reverse losses in biodiversity.
7.
Re-START-Europe requires all the nations of Europe to make urgent change in the scale and direction of policy:
•
Renewing existing commitments to zero-carbon transport and energy networks;
•
Scaling up existing programmes to rebalance the economies of Europe; and
•
Creating new initiatives for sectors and communities particularly affected by the Covid-19 crisis.
Click here to download the document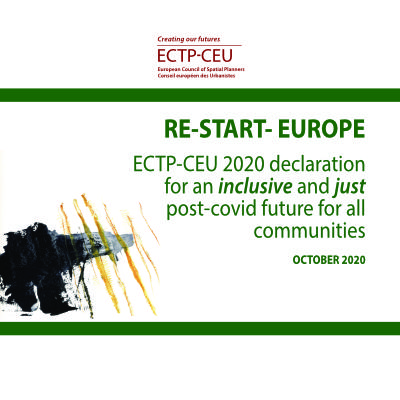 ECTP-CEU a approuvé lors de sa dernière Assemblée Générale la Déclaration «RE-START-EUROPE» pour un avenir post-Covid inclusif et juste pour toutes les communautés.
Cette déclaration - qui a été présentée le 10/12/2020 lors d'un webinaire - vise à exploiter le pouvoir créatif et l'expertise technique des planificateurs spatiaux pour faire face à la crise sociale et économique créée par la pandémie Covid-19.
En voici le résumé
Déclaration ECTP-CEU 2020 pour un avenir post-Covid inclusif et juste pour toutes les communautés
1.
Cette déclaration Re-START-Europe définit les principes qui permettront à l'Europe de sortir de la crise créée suite à la pandémie de la Covid-19, en exploitant la puissance de l'aménagement du territoire pour une reprise juste dans toute l'Europe, soutenue par un programme plus large de résilience, de renouveau et de croissance.
2.
La
Covid-19 accélère les tendances et crée de nouvelles trajectoires qui remodèlent nos villes. Un aménagement du territoire revitalisé est nécessaire pour gérer la nouvelle géographie économique de l'Europe créée par de nouvelles pratiques commerciales, le travail à domicile et des chaînes d'approvisionnement plus localisées et diversifiées. Un retour aux tendances et aux politiques du "business as usual" menacera les fondements des économies et des sociétés dans toute l'Europe.
3.
L'avenir de l'Europe ne doit pas être paralysé par l'incertitude radicale à laquelle elle est confrontée. La crise économique a créé le risque d'une récession économique durable. L'Europe doit agir de toute urgence, en redéfinissant les objectifs et les pratiques pour une Europe saine et planifiée, en créant des emplois et en mobilisant les investissements. Nous devons relancer l'esprit européen qui a fleuri au cours des 70 dernières années en faisant face aux crises créées par les conflits humains et les catastrophes naturelles.
4.
Re-START-Europe contribuera à la réalisation de son ambition de longue date pour un avenir plus durable grâce à l'engagement de la profession d'urbaniste pour faire en sorte que les politiques soient fondées sur des données probantes et non sur des considérations idéologiques. Ce faisant, il s'appuie sur la Charte européenne de l'urbanisme et la Charte européenne de la démocratie participative.
5.
Re-START-Europe exige de toutes les nations qu'elles saisissent l'occasion de remettre l'Europe sur une trajectoire plus durable, façonnée par nos valeurs communes et non par des marchés sans entraves :
•
en s'engageant à nouveau à respecter les principes du nouvel agenda urbain de l'ONU-HABITAT pour le bien-être de ses citoyens, la préservation des écosystèmes vitaux et la lutte contre le changement climatique ;
•
en fixant des objectifs de durabilité explicites, conformément au principe des cadres de résultats décennaux, repris dans les objectifs de développement durable des Nations unies pour 2030 et dans la nouvelle charte de Leipzig ;
•
en rééquilibrant le pouvoir et la richesse pour éviter les troubles et l'érosion du respect des gouvernements, qu'ils soient locaux, régionaux ou nationaux, afin de créer une Europe juste et équitable ;
•
en créant des systèmes urbains plus résistants et plus vigilants dans l'évaluation des risques grâce à une planification spatiale renforcée, afin que les communautés européennes soient mieux préparées aux futurs chocs économiques.
6.
Re-START-Europe est construit autour des Evaluations d'Impact Territorial (EIT) et intègre les pratiques d'aménagement du territoire à tous les niveaux de gouvernance territoriale et sectorielle afin de :
•
créer une résilience dans la base économique de l'Europe en reconstruisant l'économie manufacturière de l'Europe ;
•
contenir les densités urbaines à des niveaux durables ;
•
de raccourcir et de diversifier les chaînes d'approvisionnement et de capitaliser sur ses atouts en matière de R&D ;
•
développer l'économie de base et une plus grande autonomie des communautés ;
•
décarboner l'énergie et les systèmes industriels ;
•
améliorer la connectivité au sein des régions et au-delà des communautés marginalisées ; et
•
valoriser les écosystèmes, en particulier l'espace public, et inverser les pertes de biodiversité.
7.
Re-START-Europe exige de toutes les nations d'Europe qu'elles changent d'urgence l'échelle et l'orientation de leurs politiques :
•
en renouvelant les engagements existants en faveur des réseaux de transport et d'énergie sans carbone ;
•
en intensifiant les programmes existants pour rééquilibrer les économies européennes ; et
•
en créant de nouvelles initiatives pour les secteurs et les communautés particulièrement touchés par la crise de laCovid-19.