About the ECTP-CEU Biennials
BIENNIALS OF EUROPEAN TOWNS AND TOWN PLANNERS. 1995-2017
The goal of the Biennial of "Town and town planners", promoted by the European Council of Town Planners (ECTP-CEU), is bringing together urban planners, designers, sociologists, historians (of architecture), politicians and other professionals to discuss the issues and share information and lessons learned.
We need to know how urban planners and designers throughout Europe deal with changes in the cultural and technological environments.
The Biennial aims to launch a European debate on how urban designers and planners can help create sustainable cities.
The goal of biennials is also to assemble urban planners, engineers, architects, economists, sociologists, elected people, citizens, private and non governmental organizations (NGO) with the objective to share questions, experiences and alternative answers.
From 1995 in which the first Biennial was organized until the last edition organized in 2007 in Paris, Biennials have focused on the different problems and challenges European cities and territories have faced over the last 22 years.
The Bienials intend to put some light on these questions and understand better the European cities changes and new urban paradgims.
---
13th European Biennial of Towns and Town Planners 2019
Plymouth, Britain's Ocean City
September 11-13 2019
Planning on the edge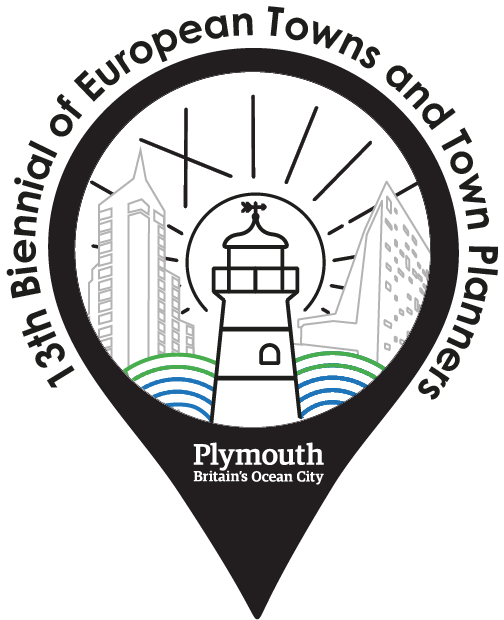 "Plymouth is Britain's Ocean City, quite simply, there is nowhere better to live, work and play!"
– Cllr. Tudor Evans OBE, Leader Plymouth City Council
Main conference venue: Plymouth University
Welcoming the ECTP-CEU 2019 Young Planners Workshop, based on the same theme of Planning on the Edge
In 2020 Plymouth will play a major part as lead City for the UK for the Mayflower 400 commemorations, celebrating 400 years since the Mayflower sailed from Plymouth to the United States of America.
It is fitting therefore that in 2019 Plymouth should play host to the European Council Of Spatial Planners by positioning Plymouth and the UK globally at the heart of this symbolic journey and showcasing our transforming city.
Plymouth is a spectacular waterfront city, the 14th largest in the UK and the largest port on the South coast of England. With over 260,000 residents, in excess of 50,000 students and attracting over 5.2 million visitors annually it is a thriving hub on the Devon/Cornwall boarder.
A one of the key cities and growth areas in the South West: Well connected - Green - Spectacular - Innovative - Leading the way
Plymouth believes in proactive, positive planning. It is the only city to have twice won the prestigious Royal Town Planning Institute Silver Jubilee Cup for its Local Development Framework Core Strategy in 2005 – the first and fastest produced for a major English city and then in 2015 for its innovative Plan for Homes which is delivering 5,000 homes in 5 years. 2016 saw Plymouth named as the best local planning authority.
The Strategic Planning & Infrastructure Department in Plymouth has a strong reputation for innovation and creativity and has a long track record of delivery in the fields of spatial planning, transport, housing and environmental policy all of which fall within its remit. It has therefore been able to develop a number of integrated approaches to policy development and delivery on the ground. We will be able to link workshops and presentations with plenary sessions involving senior local stakeholders and study visits to key projects and locations close to the venue.
This event is open to members of the ECSP, RTPI, all planning professionals and suppliers providing a mixture of business-to-business (B2B) workshops, industry updates, keynote speeches, panel debates and networking opportunities.
Study visits during the convention are to be proposed to delegates.
This edition of the Biennial is possible thanks to the partnership from:
Plymouth City Council, the University of Plymouth, Destination Plymouth and Conference Plymouth and of course the RTPI
See Driving Growth video detailing these developments here: Driving Growth video
Plymouth, Britain's Ocean City
September 11-13 2019
Planning on the edge